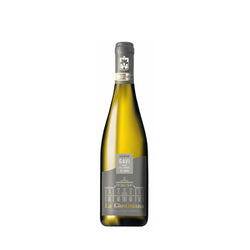 Rovereto di Gavi
La Giustiniana 'Lugarara' Gavi di Gavi 2021, Piedmont, Italy
Yellow as straw, with a light hue of green. Gentle aromas of fruit and stone on the nose, along with zesty lime, which give way to a subtle scent of fresh green apples. A strong balance of the palate, with a lack of overpowering acidity and a welcome sense of structure. Lingering finish of almond hints.
GRAPE
WHAT IT GOES WITH 
Seafood, pesto and cheese.
Vegan and Vegetarian friendly.
YEAR
2019
ABOUT THE VINEYARD
This vineyard is found in Rovereto di Gavi, part of the Italian province of Alessandro. The grapes are grown 300 metres over sea level in loose soil. Vines face to the south and southeast, with 4,000 vines planted in every hectare of vineyard space. The 2019 vintage endured variable weather conditions, leading to a fine yield and excellent maturation.