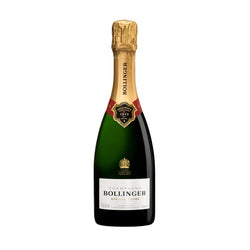 The Bollinger House
Bollinger 'Special Cuvée' NV, Champagne, France
Golden in colour, with a rich and complex aroma. Hints of roasted apple and peach on the palate, with a lingering dry finish of fresh walnut and brioche to finish. Equal parts lively and structured, blending acidity with a creamy drinking experience, Bollinger is the perfect sparkling vintage for any celebration or occasion. Best served at around 10 degrees.
GRAPE
Pinot Noir, Meunier, Chardonnay
WHAT IT GOES WITH
Poultry, seafood, cured ham, parmesan cheese or use as an aperitif.
YEAR
NV
ABOUT THE VINEYARD
Created through blending a range of wines from a variety of years, some of which are aged for longer than 15 years. Famously a family business for generations, Bollinger appointed their first 'outsider' in 2008, assigned the role of chairman to Jérôme Philipon. The result is even greater commercial success and superior production quality.