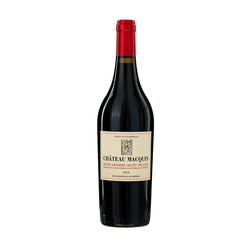 Château Macquin
Château Macquin Saint-Georges-Saint-Émilion 2020, Bordeaux, France 2020
Strong and bold, this is a fine Bordeaux for anybody seeking a no-nonsense approach to a fruity red wine. Open the bottle of deep, ruby red and drink in an intense scent of fruit and spice - most notably pepper and cinnamon. Once poured into a glass and enjoyed, this wine really comes into its own. Raspberries, blackberries and plums are the initial taste sensation, before a balance is provided by a hint of tobacco and tannins as smooth as silk. With little acidity and a lengthy aftertaste that offers hints of cedar wood, this is an ideal winter warmer.

GRAPE
Merlot, Cabernet Franc, Cabernet Sauvignon

WHAT IT GOES WITH
With low acidity and medium tannins, this fruity red is perfect with slow-cooked red meat or Sunday roasts

YEAR
2016
ABOUT THE VINEYARD
Saint-Georges is one of the smallest villages in Bordeaux, but the presence of Château Macquin has put it on the map. Founded in 1895 by François-Albert Macquin, and now operated by his grandson Denis along with his wife Christine. The château is just north of Saint-Émilion, the vineyard is located some 90 metres above the sea. This elevation provides a unique level of concentration and freshness to the grapes grown in the vineyard, which are also grown with wholly sustainable techniques. The 2016 vintage, in particular, benefits from a fine harvest and astounding growing conditions.