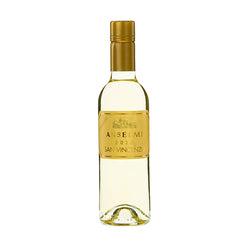 Roberto Anselmi
Anselmi 'San Vincenzo' 2020, Veneto, Italy
Roberto is a motorbike riding rebel winemaker who gave up his Soave appellation status to allow him more control over his vines and winemaking style. The results are a truly unique and utterly delicious wine; light gold in colour with a textured palate awash with ripe citrus, melon, white pepper and a bitter almond finish.
GRAPE
WHAT IT GOES WITH
Fish and shellfish, cured meats, pasta and mature cheese
ABOUT THE VINEYARD
Roberto Anselmi's wines are the toast of Verona, bringing a taste of this province to every bottle. Anselmi began has career in the Soave commune in 1975, but relocated at the turn of the century due to fading quality of grapes and vines. Now, Anselmi - working alongside his children Tommaso and Lisa - operates from Monte Foscarino. Placing emphasis on quality over quantity, Anselmi produces low yields that tailor the volcanic soils of his adopted homeland. Anselmi is considered the godfather of Garganega, bringing the grape to ever-greater prominence through his white wine.