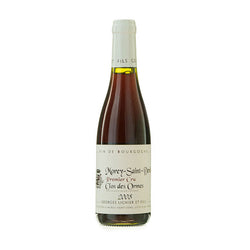 Morey St Denis
Georges Lignier et Fils Morey St Denis 1er Cru 'Clos des Ormes' 2008, Burgundy, France
Obtaining a rare wine is always a thrill, and this 2008 pinot noir from Domaine Georges Lignier & Fils is certainly difficult to come by. As a wide person once claimed, however, nothing good ever came easy. The nose blends ripe red fruit with hint of cola, with additional depth provided by spicy oak. On the palate, this is a sticky and sturdy wine with an unmistakable presence of tannins, boasting a fruity intensity unmatched by younger counterparts. The lingering finish, meanwhile, reveals hidden depths that are sure to have you reaching for a refill.
GRAPE
WHAT IT GOES WITH
Poultry, red meat and game dishes
ABOUT THE VINEYARD
The Lignier family are closely associated with Morey, holding a significant amount of growing terrain in eastern France. Currently operated by Benoît Stehly, grandnephew of the eponymous Georges Lignier, this 2008 vintage was the first produced wholly under his stewardship. Boasting 2.28 hectares of vines with an average age of 50 years, the estate covers multiple vineyards. All grapes are harvested by hand, demonstrating a great respect for traditional growth and development processes, ensuring that the pinot noir released under the Domaine Georges Lignier & Fils banner is a byword for exemplary quality.