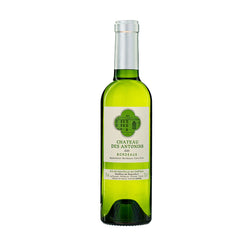 Château des Antonins
Château des Antonins Blanc, Bordeaux, France 2019
Subsometimes underrated, and this white wine truly allows the full, bursting flavours of Sauvignon grapes to thrive and flourish. Citrus is the overriding aroma, with boxwood, grapefruit and peach competing for attention on the nose. On the palate the wine really comes into its own, with a complex combination of honeysuckle, pepper, peach, orange blossom, jalapeño and the aforementioned grapefruit creating an astonishingly uplifting concoction. Consider a light acidity, alongside a long and lingering finish, and you have a well-balanced mouthful that will live long in the memory.
GRAPE
Sauvignon Blanc, Semillon

WHAT IT GOES WITH
A versatile Sauvignon, this wine pairs well with pork, fish and salad alike. It's particularly impressive when matched with a strong cheese, though

YEAR
2019
ABOUT THE VINEYARD
Located in Pondaurat, a commune found in the southwest of France, Château des Antonins was built as a convent in the 13th Century, populated by monks sworn into the order of Saint Antoine. Initially used to treat victims of ergotic poisoning, the Roquefeuil family took ownership of the convent in the aftermath of the French revolution. The winery has since been handed down from generation to generation. Since 1985, Geoffroy and Martine Roquefeuil have managed 3 hectares of Sauvignon Blanc and Semillon grapes, alongside a further 24 hectares dedicated to Merlot, Cabernet Sauvignon, and Cabernet Franc.