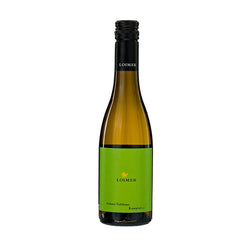 Fred Loimer
Loimer Grüner Veltliner, Kamptal, Austria 2020
Austria is rarely considered a powerhouse nation in the winemaking world, but one name stands apart all others - that of Fred Loimer. Famed for his biodynamic and modern approach to winemaking, this vintage is striking in aesthetic, scent and flavour alike. The pale yellow shade captures the attention, while hints of green apple and herbs immediately make themselves known on the nose. The palate experience is somewhere between Riesling and Sauvignon Blanc, with fruity sensations of lemon, pears, orange and apple balanced by a sharp acidity and pinch of salt. Ideal for anybody seeking a fruity white that does not succumb to excess sweetness.

GRAPE
WHAT IT GOES WITH
The herbal element of this wine matches well with herb-laden dishes. Enjoy this wine with any food that contains tarragon, parsley, dill or mint. Lightly spiced Asian cuisine, especially, pairs well

YEAR
2020
ABOUT THE VINEYARD
A graduate of the celebrated Klosterneuburg University, and experienced in working in Germany and the Napa Valley, Fred Loimer inherited this this 80-hectare vineyard in 1997. Loimer stands apart from many Austrian winemakers, who are typically attracted to a sweeter taste sensation, by focusing on sharp, balanced white wines. The grapes are grown up to 400 metres above the ocean, in variable temperatures and conditions that provide everything they need to flourish and ripen. This ensures the produce of the Fred Loimer vineyard holds up quality against more conventionally celebrated nations and winemakers.