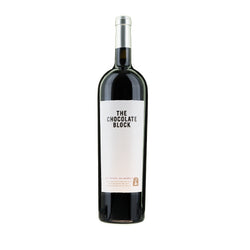 Boekenhoutskloof
Boekenhoutskloof 'The Chocolate Block' 2021, Western Cape, South Africa
The Chocolate Block can be tough to find out in the wild, as its status as a cult favourite often results in this wine flying from the shelves. Upon tasting, it's not hard to see why. Don't be fooled by the name; this South African wine has no cocoa connotations, instead inspiring comparison to a southern hemisphere Chateaneuf-du-Pape. It's a rich blend of dark fruits including blackberry, plum, cherry and blueberry, balanced by hints of aniseed and tobacco. Every blend of The Chocolate Block includes slightly tweaked ingredients, so every bottle is a new adventure. Thankfully, it's an escapade than any red wine enthusiast should embark upon at least once.
GRAPE
Syrah, Grenache, Cinsault, Cabernet Sauvignon and Viognier
WHAT IT GOES WITH
Pull the cork, whip up an earthy mushroom risotto and transform your midweek dinner into rustic Italian fare.
ABOUT THE VINEYARD
Boekenhoutskloof was named Platter's South African Winery of the Year in 2020, ensuring that this vineyard is surely destined for great things. Initially founded in 1776 (and undergoing a full restoration in 1993) in the Franschhoek valley, located in the Western Cape, Boekenhout is currently under the stewardship of Marc Kent - voted Diners Club Winemaker of the Year in 2007. The Chocolate Block first entered public consciousness in 2003, making the most of an array of grapes harvested the previous year. Dedicated to natural conservation, and with further acquisitions of land made throughout the previous decade,  Boekenhout is surely destined to continue to to go from strength to strength.