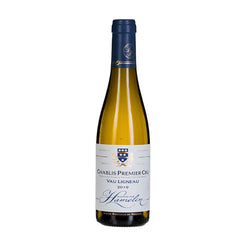 Hamelin
Domaine Hamelin Chablis 1er Cru 'Vau Ligneau' 2019, Burgundy, France
A good Chardonnay should be as dry as oak without sacrificing delicacy or subtlety. This is a balancing act that Domaine Hamelin pull off admirably, softening the oak edges of this white wine with hints of butter and coconut. It's the latter taste sensation that lingers here, creating a memorable drinking experience, though the aroma of citrus, apple and lilies are also a treat for there senses. A bone-dry finish ensures that this wine is wholly refreshing and effortlessly elegant. Ideal to pair with a light meal or simply to enjoy alone, chilled on a summer's day.
GRAPE
WHAT IT GOES WITH
Seafood, pork and mild cheese
ABOUT THE VINEYARD 
The Hamelin family are a fixture of the Chablis region, having treated aficionados to astounding wines for six generations now. Domaine Hamelin is located across the small villages of Poinchy, Beines and Lignorelles, located in sheltered territory to encourage growth, facing the south-east to maximise ripening. With vines planted some four decades ago, Domaine Hamelin has embraced organic tending of the local vineyards, with traditional fertilising techniques giving way to an embrace of modern technology - all without sacrificing the bold and unmistakable flavour of the produce.