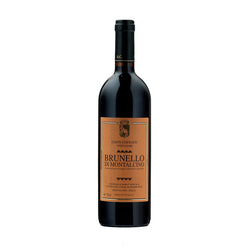 Conti Costanti
Conti Costanti Brunello di Montalcino 2015, Tuscany, Italy
100% Sangiovese aged in French and Slavonion oak for 36 months, this wine displays typical perfumes and flavours of morello cherry, cinnamon and spice. It is rich, succulent and offers some delectably chewy tannins.
GRAPE
WHAT IT GOES WITH
Beef, lamb, poultry and venison
Vegetarian and Vegan
ABOUT THE VINEYARD
The Costanti family play a critical role in the history of the Republic of Siena. Having fought for independence in the region, the family inherited land. In the 16th Century, they turned their hand to winemaking. Most celebrated for their Brunello wines, the produce of the Costantis was largely reserved for friends and family members until the 1960s. After this period, word of the outstanding produce from this vineyard began to spread. Since 1983, Andrea Costanti has been at the helm, embracing organic growth techniques and furthering the reputation of Conti Costanti as a brand.