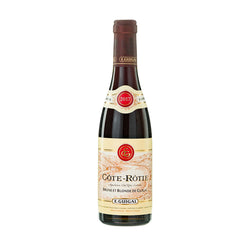 Guigal
E. Guigal 'Brune et Blonde' Côte-Rôtie 2017, Rhône, France
A blend of the famed Côte Blonde (limestone rich soils) and Côte Brune (iron rich soils) plots and with 36 months in oak barrels, this a dark, spiced wine with notes of red berries, gentle oak and silky tannins. Utterly sumptuous.
GRAPE
WHAT IT GOES WITH
Beef, lamb, poultry, venison and cheese, but vegan- and vegetarian-friendly
ABOUT THE VINEYARD
Etienne Guigal founded the Guigal domain in 1946, operating from the ancient Côte-Rôtie village of Ampuis. Etienne was struck blind in 1961, leading to his son Marcel taking over ownership of the vineyard, later joined by his wife Bernadette. Today, the couple's son Philippe and daughter-in-law Eve continue to bring fine wine to world under the banner of the Guigal domain. Expansion has been steady, with the Guigal family investing in the Domaine de Bonserine in 2006 and the Château de Nalys in Châteauneuf-du-Pape in 2017.