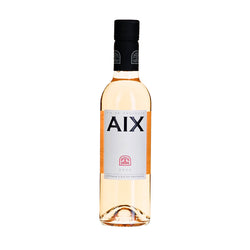 Maison Saint Aix
AIX Rosé 2022, Coteaux d'Aix-en-Provence, France
This one's got the "AIX" factor, no doubt about it. Provence leads the world for ultra-premium rosé, and even among sterling company, AIX Rosé stands out. Its beautiful salmon colour is inviting and its fresh, fruity, almost candied nose is downright irresistible. On the palate it's crisp and lively with bright red fruit and citrus flavours, a touch of spice and a medium body.
GRAPE
Grenache, Syrah and Cinsault
WHAT IT GOES WITH
This Provençal beauty was made for sharing with friends, and all the better if that's by the pool or the beach on a hot summer's afternoon. Dogs aren't just for Christmas, however, and rosé is certainly not just for summer. Grill or BBQ some seafood and it won't matter if you're in South Kensington or St Tropez.
ABOUT THE VINEYARD
Behind the iconic "AIX" label, there's the 130-year-old Maison Saint Aix. The property boasts one of the largest vineyards in the über-fashionable Coteaux d'Aix en Provence region in the South of France. The vineyard sits upon a mineral-rich plateau at some 420 metres above sea level. Here, dewy mornings lead to long, warm and sunny days and eventually to cool nights – optimal conditions for growing world-class Grenache, Syrah and Cinsault.