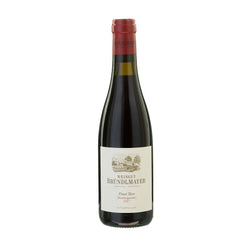 Bründlmayer
Bründlmayer Pinot Noir 2017, Niederösterreich, Austria
A good Pinot Noir should be a sensory experience, and that's certainly the case with Bründlmayer. Upon uncorking the bottle, the nose is treated to a combination of fruity cherry, vanilla, breakfast waffles, mint and a hint of earthiness. This scent gives way to a pleasing intensity that married a strong body with refreshing acidity. A gentle, woody aftertaste ensures you'll soon be reaching for a top-up. Offering excellent value for such a treasured grape, Bründlmayer is best served slightly chilled for the finest possible taste experience.
GRAPE
WHAT IT GOES WITH
As with any high-quality Pinot Noir, this wine is ideal for pairing with red meat dishes, including game. It also matches poultry, however
ABOUT THE VINEYARD
Weingut Bründlmayer is found in the region of Langenlois, some 40 miles from Vienna. Owner Willi Bründlmayer has managed the business for some four decades, amassing a reputation as arguably Austria's finest winemaker. While primarily renowned for his Chardonnay grapes, the vineyard is also the origin of a variety of glorious reds. Weingut Bründlmayer actually covers three large vineyards to encourage plentiful growth, with significant emphasis placed on environmental conscience.  Weingut Bründlmayer only use organic fertiliser and eschew any form of herbicide. The estate is also a historical monument, with a collection of wines dating back centuries stored on-site.