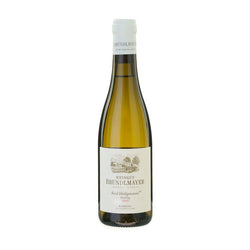 Bründlmayer
Bründlmayer Ried Zöbinger Heiligenstein 1ÖTW Riesling, Kamptal, Austria
This Reisling may be a young wine, but you'd never know it to taste. The bouquet is pleasantly floral, with a pinch of peach and tropical fruit to provide balance. Upon the palate, Bründlmayer Ried Zöbinger Heiligenstein is undeniably sweet, with distinctly fruity and juicy overtimes, but this is balanced by a sharp acidity. This follows into the finish and aftertaste, which combine sensations of salt, fruit and silk. Best of all, this aftertaste is lengthy and memorable, completing a decadent and desirable wine experience.
GRAPE
WHAT IT GOES WITH
Such a light and refreshing Riesling is the perfect match for chicken and pasta or spicy Asian cuisine
YEAR
2019
ABOUT THE VINEYARD
Weingut Bründlmayer is found in the region of Langenlois, some 40 miles from Vienna. Owner Willi Bründlmayer has managed the business for some four decades, amassing a reputation as arguably Austria's finest winemaker. While primarily renowned for his Chardonnay grapes, the vineyard is also the origin of a variety of glorious reds. Weingut Bründlmayer actually covers three large vineyards to encourage plentiful growth, with significant emphasis placed on environmental conscience.  Weingut Bründlmayer only use organic fertiliser and eschew any form of herbicide. The estate is also a historical monument, with a collection of wines dating back centuries stored on-site.