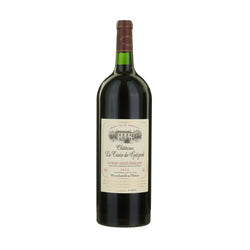 Château La Croix de Grézard
Château La Croix de Grézard 2015, Lussac-Saint-Émilion, France
Bold, dry and delightfully soft on the palate, this is the perfect red to accompany a hearty meal. Deep fruits, including plum and cherry, are tempered by wood, spice and a punch of pepper on the nose. Once tasted, Lussac-Saint-Émilion makes quite the impression. The delectable combination of fruit and spice lingers on the tongue, before giving way to an appealing drop with hint of leather. The tannins create a strong taste that never veers into overpowering, while the balance between acidity and drinkability is impeccable. A rich and smoky aftertaste completes an appealing experience at a very welcome price point.
GRAPE
Merlot, Petit Verdot, Cabernet Sauvignon
WHAT IT GOES WITH
The perfect companion to rich red meat dishes, including beef, game and lamb – especially when enjoying a traditional Sunday roast
YEAR
2015
ABOUT THE VINEYARD
While many vineyards across the globe are celebrated for their sprawling size, Chateau la Croix de Grezard takes a refreshingly boutique approach. Covering around 15 acres in Lussac St. Emilion, a satellite region within the Bordeaux territory. The vineyard, owned and operated by Blighty's own Bill Boulter, is predominately host to merlot grapes, though a sprinkling of cabernet and verdant add complexity to the produce. The vines are aged to perfection, typically between 30 and 60 years in age, before being harvested and fermented in cement. Any wine from Chateau la Croix de Grezard is aged for a minimum of 18 months before being bottled on-site and made available for connoisseurs to enjoy.