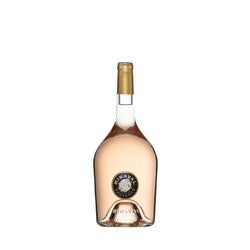 Miraval
Miraval Rosé 2019, Côtes de Provence, France
Anyone who thinks rosé is too simple should take a moment to examine this one. Its colour is hard to pin down, beautifully pale and bright with a shade of pink recalling petals. Aromatically, it's a lot of fun, bursting with fresh strawberries and lively spring flowers. Take a sip, and you've got those pretty red fruits, backed up with refreshing acidity, undeniable minerality and a hint of salinity on the finish.

YEAR
2019
GRAPE
40% Grenache/Garnacha
30% Cinsault
20% Rolle
10% Syrah/Shiraz
WHAT IT GOES WITH
Enjoy this one in the sun with a mixed board of cured meats and cheeses and a good chunk of crusty bread.
VINEYARD
Miraval is a Provençal icon, owing as much to what happens in the vineyard as to its celebrity ownership. You'll find the château in Correns, the first French village where every single crop – wine grapes notable among them – is 100% certified organic. Miraval's terraced vineyards lie at an altitude of 350 metres above sea level, which is great news for those organic grapes. The cool nights moderate the warm days, in turn helping those delicate little grapes to retain their precious aromas and crisp acidity. The clay and chalk soils help to regulate the vineyard's water supply, ensuring that the vines have water whenever they need it and drainage when they don't. As if that weren't enough to ensure top quality wine, workers here harvest the grapes by hand early in the morning to protect the grapes, which are in turn are sorted by hand twice.