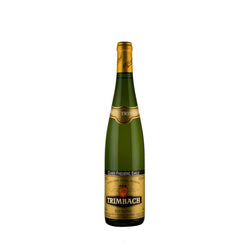 Maison Trimbach
Trimbach 'Cuvée Frédéric Emile' 2013, Alsace, France
Hailing from a Grand Cru vineyard, this wine is only released with it is believed to be reaching maturity. The wine is rich, complex with fresh zesty lime, quince and tangerine, backed up by notes of fresh-cut herbs and tantalising hints of spicy cinnamon, all balanced by a backbone of zingy mineral acidity.
GRAPE
WHAT IT GOES WITH
Shellfish and seafood, white meat, pork, spicy Asian cuisine
YEAR
2011
ABOUT THE VINEYARD
Maison Trimbach is fixture of Alsace, creating fine wines since the early 17th Century. The vineyard has remained in the family, ensuring that perfection and tradition is maintained, with the thirteenth generation now overseeing production. Ideally located between the Vosges mountain range, the vines are protected from excessive rainfall and damage from the Rhine River. The Trimbach family refuse to release a bottle of Reisling until it is ready to drink, ensuring quality.