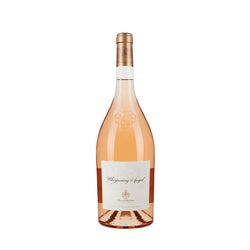 Chateau d'Esclans
Château d'Esclans 'Whispering Angel' 2021, Provence, France
Whispering Angel is a global powerhouse outsells any other rosé in the world. Surely that's something to shout about? You'll certainly want to share your knowledge of this astonishing wine, though you'll be quick to tell guests to get their own supply to spare your own. Dry and crisp on the palate, but with acidic citrus qualities balanced by a delicate blend of summer fruits, the creamy finish of this rosé will linger long after you drain your glass. A mini magnum is the only way to enjoy Whispering Angel, as a bottle will simply never be enough.
GRAPE
Grenache, Rolle, Cinsault, Syrah, Mourvèdre
WHAT IT GOES WITH
The delicate and sophisticated taste of Whispering Angel ensures that this rosé stands apart, and can be enjoyed alone for a moment of private bliss. Pour yourself a glass on a rooftop terrace or the dock of a boat, and watch the world go by. You'll feel a sense of unrivalled contentment. The wine also pairs neatly with salty foods however, and even blends perfectly with stone-baked pizza.
ABOUT THE VINEYARD
Whispering Angel is the flagship product of Chateau d'Esclans, based in the heart of Provence. The chateau itself hails back to the 13th Century, though the current building has been in use since the mid-1800s. Located in the mountains and overlooking the Mediterranean sea, Chateau d'Esclans uses a range of aged grapes that provide a rich, deep and full flavour to their wines that is truly incomparable.