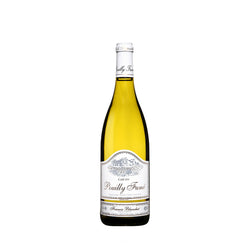 Francis Blanchet
Francis Blanchet 'Calcite' Pouilly-Fumé 2021, Loire, France
A typical Pouilly Fumé taste sensation, though arguably slightly less complex and slightly lighter on the palate. Well-balanced overall, with scent of apricot and citrus leading to a dry and acidic - but not overpowering - taste. Medium finish that offers refreshing hints of grapefruit, passion fruit and green apples.
GRAPE
WHAT IT GOES WITH
Seafood, poultry, cheese, vegetables and salads.
ABOUT THE VINEYARD
Francis Blanchet is a comparatively new vineyard, in operation since the 1900s. With 23 acres, and a range of sustainable growing techniques. vibrancy of produce is assured.