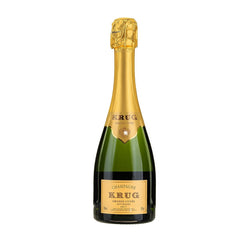 Krug
Krug 'Grande Cuvée 166ème Édition' Brut NV, Champagne, France
Heavily dominated by Pinot Noir with the dryness of Chardonnay, forming a complexity that belies NV status. Aged in the bottle for six years ahead of sale, and created from a blend of 35% reserve wines. Roughly eight different years are applied to a standard bottle of Krug. A premium champagne for any occasion.
GRAPE
WHAT IT GOES WITH
Red meat, seafood or vegetable au gratin. Krug is vegetarian- and vegan-friendly.
YEAR
NV
ABOUT THE VINEYARD
Over 150 years old, this family-owned vineyard is under sixth generation stewardship of the Krug family. Recognised as one of the finest Grand Marques champagne houses in the world. The NV Krug is widely considered to be the flagship product of the house, offering a quintessential Krug experience. Enter a six-digit code on the back of the the bottle to the Krug website for personalised details as to the production technique of the bottle you hold in your hand.