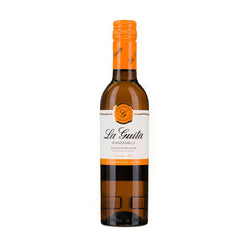 La Guita
Hijos de Rainera Pérez Marín 'La Guita' Manzanilla NV, Jerez, Spain
Delicate and poised with notes of chamomile and flint, wrapped in a saline finish.
GRAPE
WHAT IT GOES WITH
Seafood and shellfish, nuts, cheese or serve as as an aperitif.
Vegetarian and vegan friendly
YEAR
NV
ABOUT THE VINEYARD
La Guita stands apart as the only wine produced at the Hijos de Rainera Pérez Marín, located in the Sanlúcar de Barrameda territory. Owned by the Grupo Estévez since 2017, La Guita is named after the preference of founder Domingo Perez Marin for cash payments in the 19th Century - "La Guita" is a slang term for cash. The soldera that hosts this fortified wine covers soine 16,000 butts, with the grapes grown in a unique and welcoming climate. La Guita also holds a place in history as the first product produced exclusive from palomino harvests.