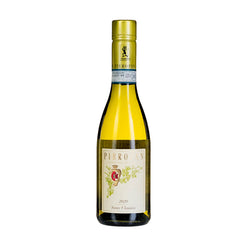 -
Pieropan Soave Classico 2020, Veneto, Italy
Extremely fresh and expressive on the palate, especially when chilled to around 6OC. The aroma is classic, blending white flowers, marzipan and almond with a gentle hint of citrus fruit. The wine is rounded and ripe on the palate, with a clean and distinctive acidity. A lingering finish reminiscent of almond pastry.
GRAPE
Garganega, Trebbiano di Soave
WHAT IT GOES WITH
ABOUT THE VINEYARD 
Located in a south-facing vineyard in the Soave Classico. All grapes are certified organic, grown between 100 and 300 metres above sea level. This vintage away a cool winter and spring, so the grapes grew slightly slower. Intense heart followed by heavy rainfall in late summer ensured a dynamic, ripe growth before harvesting.